So, since my end-of-the-week post isn't just about what I got in my mailbox or on my Kindle each week -- though that is a big part of it, I won't lie -- I decided to change up the title and intro a bit. I might tweak the format a bit over the next few weeks, but for the most part, it'll contain the same stuff: stuff I got, stuff I did, and stuff that's coming up on the blog. Plus, I get to use the awesome GIF you see here and blow kisses to all the people who sent me lovely books and bookish things. Oh, and I've started linking up to Stacking the Shelves hosted by Tynga's Reviews since I'm not using a specific meme title anymore. April's also doing her own Stacking the Shelves posts on Sundays. Stop by and say hi! =)
Hope you all had a happy 4th!!! :D We didn't make the mistake of letting Katie drive around the neighborhood in her Barbie Jeep with a
3 minute smoke bomb
attached to the back of it again this year, but we had fun nevertheless. :P Man, she fogged up the whole street! If I can find the video, I'll share it later. ;0) She did, however, end up with a ton of fireworks to shoot off, plus a ton of smoke bombs. Girl loves her smoke bombs. :)
The garden is doing awesome this week, except that we found worms in the green beans. Boo! We also need to get out there and weed it. That's always been my least favorite aspect of gardening, but when I was a kid, my parents always made it a rule that if I was going to eat anything that came out of the garden, I had to help maintain it, so I'm trying to instill that same work ethic in Katie. Oddly enough, the kid
loves
weeding the garden...she's just not super good at it yet. :P Here's a pic of our first major harvest:
Not too shabby, right? :)
Anyway, here's what I scored this week:
For Review: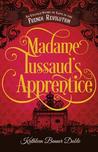 Winterkill
by Kate A. Boorman - Hope this is as good and eerie as it sounds!
Madame Tussaud's Apprentice
by Kathleen Benner Duble - Vive la révolution!
Defector
by Susanne Winnacker - finished copy - Haven't read the first book so I'll probably give this away soon
Five Ways to Fall
by K.A. Tucker - audiobook - Loved the previous books, so I can't wait for Ben's story!
The Vault of Dreamers
by Caragh M. O'Brien - The publicist for this book talked me into it and sent over an ARC. I hope it's as good as she made it out to be.
Purchases:
Sinner
by Maggie Stiefvater - Isn't it ever so pretty?!? I have an ARC, too, but I just HAD to have this beautiful artwork, plus it's
signed
. I can continue to say that all of my Maggie books have been signed & doodled by the author herself....well, at least one version of each book, anyway. My ARC of
Sinner
isn't signed...boohoo. Guess I'll have to stalk the author some more. :P
So, that's my haul. How about you? What did you get this week?
The Week in Review:
Reviews:
Look for new giveaways in the coming weeks, including my first ever Twitter-only contest and a giveaway of the complete Maze Runner series in anticipation of the new film!


Promotional/Discussion Posts:
Jen's Currently Reading/Listening To:
Since I finished my re-read/listen of the first two books and finally read the volume of novellas, I figured it was high time I give in to the temptation and read this before anyone spoils it for me. =)
This isn't particularly what I want to listen to right now, but I got it from the library and it's due back very soon and I can't renew it because there's someone on the waitlist. :( So, even though I already started Broken Hearts, Fences & Other Things to Mend, I'll have to wait to get back to it. Which pains me because it's Morgan Matson writing as Katie Finn, and I love Morgan Matson. :) But Catch a Falling Star is relatively cute, so it's not a bad listen.
Upcoming Reviews:
(as in, within the next few weeks, lol)

I know I've been saying I'd review Haze for the last couple of weeks, but I'm having trouble forming coherent thoughts to express my love for this book/series. Rest assured I will be working diligently on it this weekend, though. ;0)
Like honest reviews & giveaways? Be sure to follow us on Bloglovin' so you never miss out!