So, since my end-of-the-week post isn't just about what I got in my mailbox or on my Kindle each week -- though that is a big part of it, I won't lie -- I decided to change up the title and intro a bit. I might tweak the format a bit over the next few weeks, but for the most part, it'll contain the same stuff: stuff I got, stuff I did, and stuff that's coming up on the blog. Plus, I get to use the awesome GIF you see here and blow kisses to all the people who sent me lovely books and bookish things. Oh, and I've started linking up to Stacking the Shelves hosted by Tynga's Reviews since I'm not using a specific meme title anymore. April's also doing her own Stacking the Shelves posts on Sundays. Stop by and say hi! =)
You guys! It's going to be in the mid-70s here all weekend long! So, of course, I've already got a barbecue on the books. =) I like winter, but I can only take so much of it. Which is really saying something considering I live somewhere that doesn't really
have
a true winter. We get maybe one snowfall --
read:
ice storm -- a year. But I think if we
did
get more snow, I might enjoy winter more. I know those of you who live in the north would beg to disagree, but let me have this. ;0)
The sunshine has really put a spring in my step, too. I've been more social this week. And I'm attending TWO social functions this weekend. Go me!!! But you know deep down that I'm still just hoping to have some time to read outside in my hammock. :P
Okay, okay. On to the books. Here's what I scored this week...
From Publishers
:
So excited for this mailing from Harper! I'm very keen to read
A Study in Charlotte
and
The Great Hunt
. And I always love discovering new books!
And I managed to
only
snag two galleys from Harper's mass-upload on EW yesterday. *pats self on back*
Traded:
Another successful
#booksfortrade
thanks to
Molly
! =D
So, that's my haul. =) What fabulous bookmail did you get this week?
The Week in Review:
Reviews:
Some of these were posted on Goodreads...

Current Giveaways:
Promotional/Discussion Posts:
Currently Reading:
I just re-read
The Storyspinner
so that I'd be ready for this sequel, but in all honesty, I don't know if that was ever actually going to be a possibility. My head was ready, but my heart is most definitely not.
Currently Listening: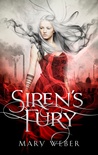 I finished re-listening to
Storm Siren
yesterday and immediately started re-listening to this book so that I can get to my review copy of
Siren's Song
. I know I only just discovered this series last year, but I feel as if I've been waiting for this conclusion foreverrrrrrrr.
Upcoming Reviews:

Like honest reviews & giveaways? Be sure to follow us on Bloglovin' so you never miss out!
Like pretty pictures of books and bookish things? Follow me on Instagram! I also host IG giveaways from time to time. :D
Subscribe by email: