We hope you're spending the day with family and friends, celebrating the independence of this great nation. Or, ya know, at least eatin' some BBQ, knockin' a cold one back, and watchin' the kids play in the sprinklers. That's what we'll be doing, after all. :D
Jen: I know me and Katie will be! And we'll also be blowing some stuff up once it gets dark. Thank goodness for living in the country! =) Here's a pic of Katie modeling her new swimsuit and of her showing off the fish she caught in the pond behind our house:
April:
We will be heading to my SIL's house for the 4th. She hosts the family get together, because in my community fireworks are forbidden! Seriously, 500 dollar fine if you're caught. I envy Jen's country living. I guess it's for the best since it's so wooded up where I'm at. In the theme of fish... Aubrey went fishing with daddy today and caught her first one. She's way to girly to hold it up like Katie though. lol. This is the closest she would let the fish get to her so I'm told.
Okay, now down to business. We're actually going to hold ourselves accountable for what we put on our Summer TBRs because we challenged ourselves to quite a bit, so we're going to use today's post to kind of monitor our progress. This challenge is based off of our
Summer Reads & Recs post
, the
What We Would Put in Our Summer Beach Bag TTT post
, and the
What's on Our Summer TBR TTT post
.
Here's Jen's Summer Fun TBR and what she's read so far: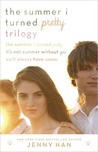 The Summer I Turned Pretty
trilogy by Jenny Han
What I Thought Was True by Huntley Fitzpatrick
Since You've Been Gone by Morgan Matson
*Broken Hearts, Fences and Other Things to Mend
by Katie Finn - Just started the audio! :D
A Midsummer's Nightmare
by Kody Keplinger
Endless Summer
by Jennifer Echols
From What I Remember by Stacey Kramer & Valerie Thomas
- DNF'd halfway through :(
In Honor
by Jessi Kirby
Second Chance Summer by Morgan Matson
Unbreak My Heart
by Melissa Walker
I'm not off to a bad start. Gotta pick up the pace, though, because that first one is actually three books!
And here's April's Summer-y TBR:
Second Chance Summer by Morgan Matson
- oh my gosh, so much love. reviewing soon.
Since You've Been Gone by Morgan Matson
My Life Next Door by Huntley Fitzpatrick
What I Thought Was True
by Huntley Fitzpatrick
Stray
by Elissa Susssman
We Were Liars
by E. Lockhart
Not a Drop to Drink by Mindy McGinnis
Amy & Roger's Epic Detour
by Morgan Matson - Just started the Audio and it's super cute so far!
Let's Get Lost
by Adi Alsaid - This one is coming up soon in my list. Pretty excited.
Nantucket Red by Leila Howland
Not bad I must say! Not sure if I'll get to all of them but I'm going to try! Thank goodness for Audio books, otherwise I'd only have two books scratched off so far.
The following are the books that Jen wanted to read this summer that don't necessarily have a summer-y theme...new releases, review copies, etc.:
I'll Give You the Sun
by Jandy Nelson
*Heir of Fire
by Sarah J. Maas - Just started this one, had to re-read the previous books first!
Isla and the Happily Ever After
by Stephanie Perkins - hasn't released yet, but I did read the chapter sample and it was sooooooo adorable!
Sinner by Maggie Stiefvater
- I'll be reviewing this next week!
Exquisite Captive
by Heather Demetrios
Where the Silence Gathers
by Kelsey Sutton - Uh oh, this releases VERY soon. :(
Trial by Fire
by Josephine Angelini
Mortal Heart
by Robin LaFevers
Wild by Alex Mallory
- Just
reviewed
this on Wednesday.
The Jewel
by Amy Ewing - buddy reading this one with April later this summer
Okay, so I'm not doing so hot on this list. But I'm working on it. :) It's really hard to prioritize reads because on one hand, I feel the urge to stick to my "schedule" but on the other...I just want to read what I want to read in that moment. *le sigh*
Here are the books April challenged herself to finish reading over the summer: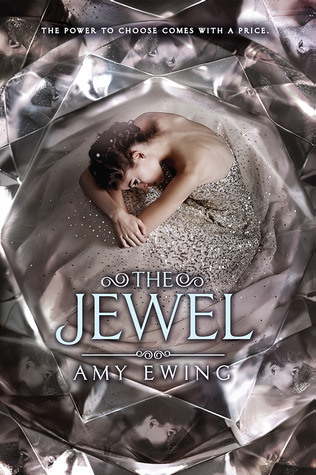 Through to You by Lauren Barnholdt
- Read this one last week, still need to review
The Kiss of Deception by Mary E. Pearson
- Just finished this. OMG, so freaking good!
Just Like the Movies
by Kelly Fiore - starting this one over the weekend.
The Stepsister's Tale by Tracy Barrett
One Past Midnight
by Jessica Shirvington
Let's Get Lost
by Adi Alsaid
Some Boys
by Patty Blount
Six Feet Over It
by Jennifer Longo
How to Fall
by Jane Casey
The Jewel
by Amy Ewing - I cannot wait to read this with Jen. <3
Like Jen, I'm not doing as hot with this list. But I think that is because all of these are for review, and my other summer picks have just been ones I want to read, so audio has been an option. Not on this list though, it's all galleys. I'm making my way through it though. I think I'll get at least most of them scratched off before the summer ends.
What books are on your Summer TBR pile? Did you challenge yourself to finish any certain books this summer? We'd love to hear how your progress is going!