"Waiting On" Wednesday is a weekly event, hosted by Jill at
Breaking the Spine
, that spotlights upcoming releases that we're eagerly anticipating.
This week's WoW selections are...
's Pick: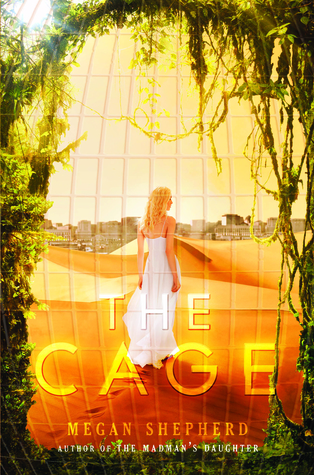 Title:
The Cage
Author:
Megan Shepherd
Series:
The Cage # 1
Publisher:
Balzer+Bray
Publication Date:
May 26th, 2015
The Maze Runner meets Scott Westerfeld in this gripping new series about teens held captive in a human zoo by an otherworldly race. From Megan Shepherd, the acclaimed author of The Madman's Daughter trilogy.

When Cora Mason wakes in a desert, she doesn't know where she is or who put her there. As she explores, she finds an impossible mix of environments—tundra next to desert, farm next to jungle, and a strangely empty town cobbled together from different cultures—all watched over by eerie black windows. And she isn't alone.

Four other teenagers have also been taken: a beautiful model, a tattooed smuggler, a secretive genius, and an army brat who seems to know too much about Cora's past. None of them have a clue as to what happened, and all of them have secrets. As the unlikely group struggles for leadership, they slowly start to trust each other. But when their mysterious jailer—a handsome young guard called Cassian—appears, they realize that their captivity is more terrifying than they could ever imagine: Their captors aren't from Earth. And they have taken the five teenagers for an otherworldly zoo—where the exhibits are humans.

As a forbidden attraction develops between Cora and Cassian, she realizes that her best chance of escape might be in the arms of her own jailer—though that would mean leaving the others behind. Can Cora manage to save herself and her companions? And if so . . . what world lies beyond the walls of their cage?
Um... Human Zoo... Need I say more? That's cray cray and I'm all over it. Though I have to say the cover blows. I'm not a fan. It's just not eye catching. I almost didn't give it a second glance.
's Pick:
Title:
The Game of Love and Death
Author:
Martha Brockenbrough
Series:
n/a
Publisher:
Arthur A. Levine Books
Publication Date:
April 28, 2015
Antony and Cleopatra. Helen of Troy and Paris. Romeo and Juliet. And now . . . Henry and Flora.

For centuries Love and Death have chosen their players. They have set the rules, rolled the dice, and kept close, ready to influence, angling for supremacy. And Death has always won. Always.

Could there ever be one time, one place, one pair whose love would truly tip the balance?

Meet Flora Saudade, an African-American girl who dreams of becoming the next Amelia Earhart by day and sings in the smoky jazz clubs of Seattle by night. Meet Henry Bishop, born a few blocks and a million worlds away, a white boy with his future assured — a wealthy adoptive family in the midst of the Great Depression, a college scholarship, and all the opportunities in the world seemingly available to him.

The players have been chosen. The dice have been rolled. But when human beings make moves of their own, what happens next is anyone's guess.

Achingly romantic and brilliantly imagined, The Game of Love and Death is a love story you will never forget.
Sometimes, you just want a good love story. And this one sounds incredible, especially with Love and Death calling the shots. Also, I'm really digging the simple, illustrated cover. More of those, please.
What are you desperately waiting for this Wednesday? Let us know in the comments or share a link to your own WoW post!