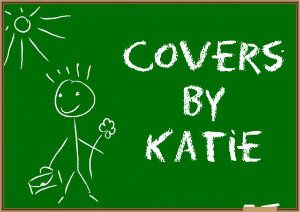 Okay, so I totally stole this idea from Sara at
Forever 17 Books
, who got the idea from an article on Babble called
Judging a Book by Its Cover: A 6-year-old Guesses What Classic Novels Are All About
. I just discovered her lovely segment, and I immediately
requested
forced my own five-year-old daughter Katie to provide me with some of her own cover art artwork and then asked her what she thought the book was about.
This week, Katie gave me her take on the following book:
"A girl is walking around with a red shoe that was too tight. It doesn't look comfortable."
Cover Art
Cinder as envisioned by Katiebug
I love Katie's summary as much as I loved this book. She saw this one in my pile of birthday books and, considering her affinity for playing dress up in heels and princess dresses, it made sense that she'd pick this book for the week's post.
Have you read
this book or do you plan to
? What do you think of Katie's guess at the premise?
Did your little darling create a work of art based on a book this week? If so, be sure to link up with Sara over at
Forever 17 Books
.