Top Ten Tuesday is hosted by the awesome ladies at
The Broke and the Bookish
. Apparently, they are overly fond of list-making and love to share their bookish lists with the rest of us book nerds. =) We're game.
This week's topic is the Top Ten Books That Should Be In Your Beach Bag or Ten Books That Will Be In My Beach Bag This Summer:
We already put together a post on
our favorite summer reads and recommendations
, so this post might seem redundant, but we're just going to list the summer-themed books that we hope to read this summer, whether by the beach, at the lake, or next to the pool. =D
April's picks:
Even though we just did a summer reading post (linked above), it's all good because every day my lists change. I'll see a great review of a book and squeeze it in, or I'll get a new arc that needs to be pushed ahead of others. So here are ten that I'm absolutely going to try and get done this summer. Two I already finished just last week.
My Life Next Door
and
Since You've Been Gone
. There are a couple on this list that aren't really summerish but I have to get done before the leaves start to fall. :)
We Were Liars
was recommended to me by my cousin, and so I squeezed it in. I've heard it's pretty good.
Jen's picks: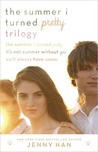 I feel pretty industrious already, having knocked two of these out -- I'll be reviewing
What I Thought Was True
and
Since You've Been Gone
later this week -- and started another two:
From What I Remember
, which I'm buddy-reading with my sis, and
Second Chance Summer
, which I'm listening to on audio. I've done all of Morgan Matson's books on audio now, and I love them. Love
love
LOVE them. Also, I recently discovered that
Broken Hearts, Fences, and Other Things to Mend
is written under her pseudonym. Now I'm even more excited to get to that one! April bought me
The Summer I Turned Pretty
trilogy for my birthday, and since she loved the series so much, I'm sure I will, too. We have pretty similar taste in books. =) The rest have just been collecting dust on my shelves, and I think I owe it to myself to have a meaningful summer flirtation with all of them. :D
What books will be in YOUR beach bag this summer? :) Share the link to your TTT post so we can visit!