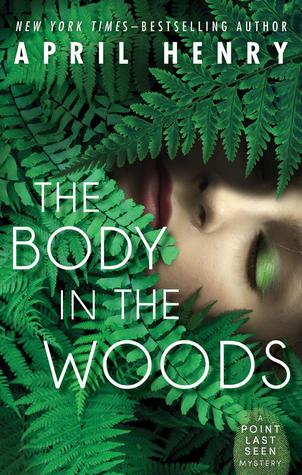 Title:
The Body In The Woods
Author:
April Henry
Series:
Point Last Seen #1
Publisher:
Henry Holt and Co. (Macmillan Children's Publishing Group)
Publication Date:
June 17th, 2014
Source:
from publisher via Netgalley
Purchase:
Amazon
|
Barnes & Noble
In this new series told from multiple perspectives, teen members of a search and rescue team discover a dead body in the woods.

Alexis, Nick, and Ruby have very different backgrounds: Alexis has spent her life covering for her mom's mental illness, Nick's bravado hides his fear of not being good enough, and Ruby just wants to pursue her eccentric interests in a world that doesn't understand her. When the three teens join Portland County Sheriff's Search and Rescue, they are teamed up to search for a autistic man lost in the woods. What they find instead is a dead body. In a friendship that will be forged in danger, fear, and courage, the three team up to find the girl's killer—before he can strike one of their own.

This first book in April Henry's Point Last Seen YA mystery series is full of riveting suspense, putting readers in the middle of harrowing rescues and crime scene investigations.


What grabbed me first about The Body in The Woods, was the cover. It's stunning, and the description sounded really good. I've been really enjoying mystery/thrillers lately, but unfortunately this one fell really flat for me.
First off, it's told from multiple points of view. Which I normally like, but it just comes off as awkward here. I guess it's more of how the writing is, not so much the points of view. The writing is a bit amature to me. I didn't like any of the characters and the plot just wasn't there. I mean, it was there, but it was boring. After the initial excitement of finding a body… we enter snoozeville.
I just wasn't feeling it at all. Maybe it will be great for others, but for me, I just need a little more action and thrill in my Thriller. Ya know?
I ended up putting this one down at about 45 percent, because I just didn't care who was killed, who was going to be killed, and who the killer actually was. Almost halfway through, and I should have been more invested than that. That being said, I still gave it a 2 star, because it wasn't horrible. I can see how some will like this title, but my reading list is just too full to push through books I'm not enjoying.
About the author:

I write mysteries and thrillers. I live in Portland, Oregon with my family.

If you've read one of my books, I would love to hear from you. Hearing from readers makes me eager to keep writing.

When I was 12, I sent a short story about a six-foot tall frog who loved peanut butter to Roald Dahl, the author of Charlie and the Chocolate Factory. He liked it so much he arranged to have it published in an international children's magazine.

My dream of writing went dormant until I was in my 30s, working at a corporate job, and started writing books on the side. Those first few years are now thankfully a blur. Now I'm very lucky to make a living doing what I love. I have written 13 novels for adults and teens, with more on the way. My books have gotten starred reviews, been picked for Booksense, translated into six languages, been named to state reading lists, and short-listed for the Oregon Book Award.

I also review YA literature and mysteries and thrillers for the Oregonian, and have written articles for both The Writer and Writers Digest.

Find April:

Website | Goodreads