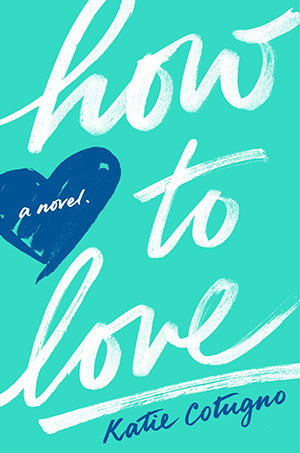 Title:
How to Love
Author:
Katie Cotugno
Series:
n/a
Publisher:
Balzer + Bray
Publication Date:
October 1st, 2013
Source:
Purchased
Purchase:
Amazon
|
Barnes & Noble
Before: Reena Montero has loved Sawyer LeGrande for as long as she can remember: as natural as breathing, as endless as time. But he's never seemed to notice that Reena even exists until one day, impossibly, he does. Reena and Sawyer fall in messy, complicated love. But then Sawyer disappears from their humid Florida town without a word, leaving a devastated-and pregnant-Reena behind.

After: Almost three years have passed, and there's a new love in Reena's life: her daughter, Hannah. Reena's gotten used to being without Sawyer, and she's finally getting the hang of this strange, unexpected life. But just as swiftly and suddenly as he disappeared, Sawyer turns up again. Reena doesn't want anything to do with him, though she'd be lying if she said Sawyer's being back wasn't stirring something in her. After everything that's happened, can Reena really let herself love Sawyer LeGrande again?
I've wanted to read
How to Love
for a while now, so I talked Jess into doing a buddy read with me. I'm attracted to books that involve babies or pregnancy. I knew right off the bat that this wasn't your average teen pregnancy book, based on reviews I had read.
I have to say I'm a little tossed on this one. Having finished it, I immediately slapped a 4 star on it, and now thinking back, it might be more of a 3 or 3 ½. For the sake of rounding up, I'm going to keep my original rating.
How to Love
was definitely hard to put down. In that sense, it more than deserves it's 4. Reena and Sawyer's relationship though… Well I never liked it. Not in the beginning and I'm not even sure I did in the end.
Sawyer is a freaking dick. Simple as that, I don't think there was even one quality I liked about him. When he's young he's a jerk and 3 years later he acts like the past is in the past. Um, not really, there was a child born. .
How to Love
is told from past and present. The chapters alternate and I really liked that. It flowed pretty seamlessly, bouncing from one to the other. I was never confused, and I felt like each chapter emphasized the previous when written out that way.
Reena, I didn't like her all that much. I mean I did, but she's just one of those girls I can't feel sorry for. She did something stupid, with someone she clearly shouldn't have been doing "things" with. I don't care if she did have a crush on him forever, real life interactions have real life consequences. So she doesn't get to go travel the world… shoulda had him wrap that shit up!
3 years later, Sawyer is back and all of a sudden this life she's put together for herself is a mess again. But it didn't have to be! Ya know? I would have handled things differently, but then again.. I'm older. I wouldn't be so quick to let him back in my life and stir things up. Baby Daddy or not.
In the end, more things come up that shed a slightly different light on Sawyer, but by then I had pretty much written him off.
The reason I did like this story though, is because it does come off as pretty realistic. I have many friends who have been in similar situations, so though I didn't always agree with Reena's actions, I understood them. This stuff happens in real life all the time.
The ending, well I thought it was a little cheesy to be honest, and probably the most unrealistic part of the story. Aside from that, it was a pretty good read and I will definitely read more from this author in the future.
About the author:

Katie Cotugno went to Catholic school for thirteen years which makes her, as an adult, both extremely superstitious and prone to crushes on boys wearing blazers. She routinely finds herself talking about the romantic endeavors of characters on TV shows as if they actually exist in the world.

Katie is a Pushcart Prize nominee whose work has appeared in The Broadkill Review, The Apalachee Review, and Argestes, as well as on Nerve.com. Her first novel, HOW TO LOVE, is due out from Balzer + Bray on October 1st, 2013.

The great loves of Katie's life include child's pose, her little sister, and mozzarella and honey sandwiches. She lives in Boston (and in sin) with her boyfriend, Tom.

Find Katie:

Website | Twitter | Facebook | Goodreads