So, since my end-of-the-week post isn't just about what I got in my mailbox or on my Kindle each week -- though that is a big part of it, I won't lie -- I decided to change up the title and intro a bit. I might tweak the format a bit over the next few weeks, but for the most part, it'll contain the same stuff: stuff I got, stuff I did, and stuff that's coming up on the blog. Plus, I get to use the awesome GIF you see here and blow kisses to all the people who sent me lovely books and bookish things. Oh, and I've started linking up to Stacking the Shelves hosted by Tynga's Reviews since I'm not using a specific meme title anymore. April's also doing her own Stacking the Shelves posts on Sundays. Stop by and say hi! =)
Ugh. What a shite week. I don't think I've ever wished adults got summer vacation, too, as much as I'm wishing it right now. Work is the absolute worst right now, and it makes it hard to get motivated to do anything else when the thing that takes up more than 50 hours of your week is just dragging you
downdowndown
. I don't mean to be a Debbie Downer but I just feel I should warn you that I'm dealing with that and April's dealing with her own busy work schedule, so if we suddenly aren't posting as much, that's why. *cries*
BUT, whenever I'm feeling blue like this, the bookish community always reminds me I'm not alone, that there are freaking awesome people out there who really do care.
Anyway
, here's what I scored this week:
For Review
:
I think I might take some time off from review books, requesting them, reading them, etc. Clearing off my shelves and reorganizing them, and then seeing my
physical TBR
, was
daunting
but it helped me realize just how many awesome books I already own that I haven't read. It's sad.
Traded/Gifted:
Thanks to @Bridget_DFT, Ashley @TheQuietConcert, @HauntedOrchid, Fallon @BookInNeverland & @skrandolph76 for the
#booksfortrade
!!!
And super mega thanks to Silvia @tundrabooks for the
Australian
ARC of
Shadows
and the ARC of
Every Breath
. I am *this* close to completing my collections! My Aussie shelf is SO happy! But now I'll have to order myself the Aussie editions of the Paula Weston series, too, methinks. :D
And check out the amazing Doctor Who/Van Gough laptop skin my sister got me for my bday! I'm only just now showing this off because she ordered the wrong size, and I had to contact Society 6 for an exchange but they were SOOO awesome about it, and even told me to keep the wrong size and gift it to someone else or whatever I wanted to do with it. I will be giving them way too much of my business now for sure. :D :D :D
Library:

All audio because that's what I do best. =) Everything but
A Cold Legacy
is a re-listen/read.
Purchased:
Never Never
Part Two - pre-ordered this one as soon as it was available. I know some people think this is one of CoHo's lesser works, but I freaking love it. I only wish I'd re-read Part One first. o_O
So, that's my haul. :) How about you? What did you get this week?
The Week in Review:
Reviews:
Current Giveaways: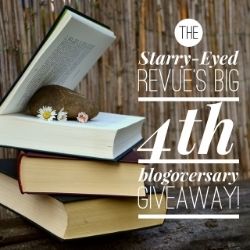 You can win the
Summer
series by Jenny Han, some awesome ARCs and bookish goodies, and for our international readers, we have a giveaway from The Book Depository. But hurry,
this contest ends SOON!
Promotional/Discussion Posts:
Last call for #booksfortrade, though trading has picked up again, at least for me, so maybe not?
#WoW - this week, we're waiting on What You Left Behind & Blood Passage
SYNC Week #3 featuring X: A Novel and Here in Harlem
The Magical World of Disney, in which April gives us a photo tour of her vacation at DisneyWorld
Jen's Currently Just Finished Reading/Listening To:
I just finished these last night and haven't decided on my next read/listen...
Upcoming Reviews:
Like honest reviews & giveaways? Be sure to follow us on Bloglovin' so you never miss out!
Like pretty pictures of books and bookish things? Follow me on Instagram! I also host IG giveaways from time to time. :D