So, since my end-of-the-week post isn't just about what I got in my mailbox or on my Kindle each week -- though that is a big part of it, I won't lie -- I decided to change up the title and intro a bit. I might tweak the format a bit over the next few weeks, but for the most part, it'll contain the same stuff: stuff I got, stuff I did, and stuff that's coming up on the blog. Plus, I get to use the awesome GIF you see here and blow kisses to all the people who sent me lovely books and bookish things. Oh, and I've started linking up to Stacking the Shelves hosted by Tynga's Reviews since I'm not using a specific meme title anymore. April's also doing her own Stacking the Shelves posts on Sundays. Stop by and say hi! =)
I've been a little absent from the blog lately, but I can't say that I'm sorry for that. I've really enjoyed spending so much time with Katie and the rest of my family these last two weeks, especially with some of the drama we've dealt with lately. When it comes to prioritizing these days, the blog ends up coming last. It wasn't always that way, but I feel better about taking breaks now, and I don't feel that sense of obligation to post every single day like I once did.
So far, 2016 has been kind of blah. As I mentioned, my family is kind of going through an ordeal, so we didn't really party it up. BUT, we did shoot off fireworks on New Year's Eve for the kiddos, and that was fun. We live in the country now and it's legal to do it, so we spent a buttload and got something to please everyone. :)
Anyway
, here's what I scored this week...
From Publishers
:
So many delicious goodies over the last couple of weeks!!! A huge Harper haul, plus
He Will Be My Ruin
from Atria,
The Forbidden Orchid
from Penguin, and
The Unexpected Everything
from Simon & Schuster. Ack! I only
thought
I was finally catching up on my review TBR! =D
Things I Purchased:
Nothing recently. I've been a very good girl as we recover from the Christmas spending spree. ;)
Procured From the Library:

I love re-reading via audio, and that's exactly what all of these will be. I recently caught
The Golden Compass
on tv, and though the adaptation was sorely lacking, it still made me want to re-read the rest of the series. Even if that final book
killed me dead
the first time I read it.
So, that's my haul. =) What fabulous bookmail did you get this week?
The Week in Review:
Reviews:
We've still been slacking as far as reviews go here on the blog, but here's one I did for a 2016 release from one of my favorite authors, plus some more mini-reviews from Goodreads.

Current Giveaways:
Check back soon!
Promotional/Discussion Posts:
#WoW - My Lady Jane by Cynthia Hand, Brodi Ashton & Jodi Meadows
Currently Reading:
I've been trying to get back to this one since before New Year's, but family obligations have gotten in the way. But I fully intend to finish before the weekend's up. I love that cover and the story inside is just as intriguing!
Currently Listening:

I haven't actually been listening to audio much this week, but next up on my queue is a re-read/listen of
The Night Circus
. I loved this when I first read it quite a few years ago, and I've heard the narrator for this one is pretty great.
Upcoming Reviews: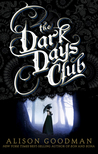 Like honest reviews & giveaways? Be sure to follow us on Bloglovin' so you never miss out!
Like pretty pictures of books and bookish things? Follow me on Instagram! I also host IG giveaways from time to time. :D
Subscribe by email: