So, since my end-of-the-week post isn't just about what I got in my mailbox or on my Kindle each week -- though that is a big part of it, I won't lie -- I decided to change up the title and intro a bit. I might tweak the format a bit over the next few weeks, but for the most part, it'll contain the same stuff: stuff I got, stuff I did, and stuff that's coming up on the blog. Plus, I get to use the awesome GIF you see here and blow kisses to all the people who sent me lovely books and bookish things. Oh, and I've started linking up to Stacking the Shelves hosted by Tynga's Reviews since I'm not using a specific meme title anymore. April's also doing her own Stacking the Shelves posts on Sundays. Stop by and say hi! =)
Yay, it's almost Thanksgiving! Which means Christmas decorating is in full force around my house this weekend, haha. Funny how that goes, huh? We alternate which holiday we spend with the family each year because of everyone else's familial obligations, so this year will be a quiet Thanksgiving and a rowdy Christmas. I'm not complaining, though. ;0) Jerrod's trying to talk me into heading to the deer lease again the day after Turkey Day, but I ended up with strep after the last time, so I'm not too excited about going back until the weather's warmer. :P
Oh, we've got plans to go see Mockingjay later today since it's just going to rain and be generally yucky. Are people going to give me looks for taking my 6yo, though? She watched the first one with me at home the other day, and she asked questions but she understood that it was just a movie and that those kids weren't
really
killing each other, so she should be okay, right?
Right
? I don't want to traumatize her, but I also don't want to get a sitter since we'll be spending the rest of the day doing holiday stuff.
The lucky child is out of school for a whole week, too, for the holiday! I remember we only got three days off for Turkey Day...when did that change? Change makes me feel old. :(
Anyway, here's what I scored this week:
For Review:
via Edelweiss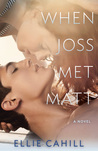 When Joss Met Matt
by Ellie Cahill - I still haven't read a Liz Czukas book yet, but I'm about to devour them all at one time, including this NA written under her pseudonym! :D
Mr. Kiss and Tell
(Veronica Mars #2) by Rob Thomas - Gaaaaaahhhhh! I cannot, absolutely CANNOT wait to read this. Please let them make more movies, too, though.
Rebound
by Noelle August - Loved
Boomerang
and I anticipate I'll enjoy this companion just as much, even if it is about two characters that I wasn't all that interested in from the first book. ;0)
audiobooks
Stray
by Elissa Sussman - Eh, already listened and it wasn't quite what I was expecting. I actually can't even remember the ending very well. And it's going to be a series? Hmmm...
Snow Like Ashes
by Sara Raasch -
Loved this
when I read it earlier this year, and I'm keen to see if the audio is just as good...or better!
Library:
Purchased:
Nothing, yay!
Won:
Nada.
So, that's my haul. How about you? What did you get this week?
The Week in Review:
Reviews:
Current Giveaways:
Check back soon!!!
Promotional/Discussion Posts:
Jen's Currently Reading/Listening To:
At the time of this post, I'm between books and having a hard time picking exactly which of my new reads I'd like to start. These two are definitely in the running, though. Just not sure whether I should start another fantasy -- urban as it were -- or if a contemporary might fit the bill better.
Upcoming Reviews:
Like honest reviews & giveaways? Be sure to follow us on Bloglovin' so you never miss out!