Around these parts, we're kind of dying for summer. Not necessarily the heat of it because Jen's from the lovely state of Texas where Spring lasts two weeks and then the 100° days follow immediately. But both of our girls are out of school -- both are going to be 3rd graders in the fall, OMG! -- and we can relax our routines a little bit, maybe fit in some more reads along the way. Summery reads, hopefully.
And whether you're reading books about summer, vacation, or just reading books
during
summer, summer reads tend to be some of the most fun. Summer romances, road trips, beach settings...it doesn't get much better than that. So, we thought we'd once again compile a list of some of our favorite summer reads, new and old.

Jen:
Last time we did
a post like this
, I recommended
The Art of Lainey
,
My Life Next Door
, and
The Summer I Became a Nerd
. And I'd still rec all of those. And other books by those same authors. But I wanted to showcase some newer favorites in this category. MoMa is always a good go-to author for fun, summer romance with a character who learns a lot about herself along the way. She's like Sarah Dessen in that way. You could add just about any of their books to this list.
The Anatomical Shape of a Heart
doesn't really sound like a summery book, I know, but all of the characters' escapades happen during those months of school-free bliss, so it counts. And is maybe my favorite on this list.
I'll Meet You There
is similarly serious but also so, so perfect for summer.

April:
I've read so many great summer books over the last year or so, but these three stick out to me the most.
What I Thought was True
is so good.
The Moon and More
didn't have as great of reviews compared to other Dessens, so I was a bit nervous going into it, but I absolutely adored it.
The Unexpected Everything
was a recent listen of ours. I made Jen listen it too! We did a
joint review
.

Jen:
I honestly haven't read too many novels featuring road trips since the last time we did a post like this, so I don't have too many recommendations in this category. Though the ones listed are all favorites and books that I've re-read because of how perfect they are for this time of year.
April:
I haven't read too many road trip books either, though I did finally get to Amy & Roger's Epic Detour and I absolutely loved it. Probably my fave road trip book to date. I also read In Honor last year, and it was pretty good! There is a bit of a road trip towards the end of Summer.
Jen:
Last time around, we suggested
The Summer I Turned Pretty
trilogy,
Wish You Were Italian
,
Nantucket Blue
and
Nantucket Red
. I apparently haven't read many novels lately where vacation or traveling was the focus, so I only have a couple of new ones to add. But they are very,
very
good ones.
April
: The only new one I have to add to this category is
Second Chance Summer
, and that's already posted above. Hands down one of my favorite books of all time. Partly because it takes place in the Pocono Mountains where I live. I never understood the appeal to all the tourist who flood my town every summer until I read this book. Make me appreciate my home a little more. <3 I loved this one so much I made a little trailer for it.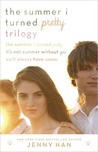 I'm being a little more realistic in my approach to my summery books TBR this year. I know I have a TON of review copies to get to, so I'm limiting myself, especially since I've been SUCH a mood reader as of late. I still need to read the other two novels in the Jenny Han trilogy, and while cleaning my shelves the other day, I discovered a copy of
Twenty Boy Summer
. Score! And, of course, I have to pick up the Stephanie Perkins' edited
Summer Days and Summer Nights
, especially after pretty much loving her holiday-themed anthology. And I loved
A Week of Mondays
, so I can't wait to read Jessica Brody's hot boy book. :D


I'm gonna go with Jen's way of thinking and be more realistic, though I have to say, I did read most of the books I had listed on our last post, but it may have been over the course of more than a summer. All of these stories take place over the Summer.
Wanderlost
follows a girl named Aubree on a trip through Europe. I want to read that just for the girls name alone. <3
Wild Swans
looks pretty good so I'm looking forward to reading that as well as
If I Fix You
. I grabbed both for review.
That Summer
is the one I'm least excited for. But I snatched it up a while ago on sale, and it's a Dessen, so I feel I need to give it a shot no matter what I've heard about it. Maybe I'll really like it since I'm going in with low expectations. :)
What books are on your summer TBR list? Plan on reading any of the ones we have listed here? Have any recs for
us
? It's obvious I could use some more summer books, especially travel and road-trip related ones. :D