So, since my end-of-the-week post isn't just about what I got in my mailbox or on my Kindle each week -- though that is a big part of it, I won't lie -- I decided to change up the title and intro a bit. I might tweak the format a bit over the next few weeks, but for the most part, it'll contain the same stuff: stuff I got, stuff I did, and stuff that's coming up on the blog. Plus, I get to use the awesome GIF you see here and blow kisses to all the people who sent me lovely books and bookish things. Oh, and I've started linking up to Stacking the Shelves hosted by Tynga's Reviews since I'm not using a specific meme title anymore. April's also doing her own Stacking the Shelves posts on Sundays. Stop by and say hi! =)
Well, it definitely
feels
like summer here in North Texas. No more rain and flooding for us, and we're expecting our first triple digit heat early next week. :( But on the plus side, I've only got one more week until I'm officially on vacation. No beaches in my immediate future, sadly, as we took our real vacation earlier this year to DisneyWorld/Universal Studios over Spring Break for Katie's birthday. So this will be a low-key staycation for us. But we've got plenty of stuff around here and just a few hours' drive away, so we'll be plenty busy and have plenty of fun. At the end of our time off, we're going to visit my older sis and trek it to Schlitterbahn, so that should help us cool off a bit. I usually spend part of a staycation trying to catch up on things, but I'm just going to sit back and relax this time around.
Anyone got any awesome summer plans coming up? What's everyone reading while you try to stay cool? As I
mentioned
last week, I've decided to spend some time with some old favorites. :)
Anyway, here's what I scored this week:
For Review
:
Blood Passage
by Heather Demetrios
Siren's Fury
by Mary Weber
Overboard
by Elizabeth Fama
Traded/Gifted:
I've got a few trades in progress, but nothing new this week. If you're interested in trading books with me, check out
this post
. =)
Library: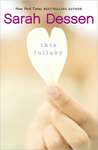 This Lullaby
by Sarah Dessen -- kind of the
perfect
summer read, if you ask me :)
Hate Spinnerbait!
Storm
&
Spark
by Brigid Kemmerer -- needed a break from all of the death and dismemberment of
The Lotus War
books so I decided to re-read this series via audio
The Queen of the Tearling
by Erika Johansen -- I want to get to the sequel soon, but I needed a refresher
Crimson Bound
by Rosamund Hodge -- just relistened to
Cruel Beauty
and it's still so perfect that I had the urge to listen to her newest novel, especially after reading
another short story
from her earlier this week
Purchased:
I've ordered a few things, but they haven't arrived yet. :(
Freebies:
I wasn't really interested in this week's SYNC audiobooks, but you can find out more on how to download them for free yourselves
here
. :)
So, that's my haul. :) How about you? What did you get this week?
The Week in Review:
Reviews:
Current Giveaways:
Promotional/Discussion Posts:
Jen's Currently Reading/Listening To:
Yay for re-reading favorites! As soon as I finish this, I'll be onto
Haze
and then
Shimmer
so that I'll be ready for
Burn
the second it arrives on my doorstep. :D Gawd, I love this series! Rafa + Gaby FOREVERRRR!!!
I couldn't decide what to listen to next and my hold for this came through at the library, and I am kind of anxious to get to the sequel, so I decided to go ahead and start it. And I'd sorta forgotten how much I liked it. :P
Upcoming Reviews:

Um, who knows? I've been doing a lot of re-reading and mood reading lately, so this is kind of up in the air, especially as I seem to actually be caught up on reviews. GASP! But I have tons of ideas for discussions... ;0)
Like honest reviews & giveaways? Be sure to follow us on Bloglovin' so you never miss out!
Like pretty pictures of books and bookish things? Follow me on Instagram! I also host IG giveaways from time to time. :D