So, since my end-of-the-week post isn't just about what I got in my mailbox or on my Kindle each week -- though that is a big part of it, I won't lie -- I decided to change up the title and intro a bit. I might tweak the format a bit over the next few weeks, but for the most part, it'll contain the same stuff: stuff I got, stuff I did, and stuff that's coming up on the blog. Plus, I get to use the awesome GIF you see here and blow kisses to all the people who sent me lovely books and bookish things. Oh, and I've started linking up to Stacking the Shelves hosted by Tynga's Reviews since I'm not using a specific meme title anymore. April's also doing her own Stacking the Shelves posts on Sundays. Stop by and say hi! =)
I hope you all had a nice holiday! I know I did...so much so that I'm still recovering, lol. It was nice to spend time with family and friends, but I'm ready to buckle down and get some real reading done. :D
Anyway, here's what I scored this week:
For Review:

Thanks HarperCollins and Simon & Schuster!
I tried to contain myself when I logged into Edelweiss yesterday to download my requested copy of
Oblivion
and saw that Harper had uploaded a ton of new titles. I didn't do terribly bad, but five is still five more than I needed to add to my schedule, though one of those I've been especially looking forward to.
I am soooo excited to have been approved for
Oblivion
. I've purposely not started this series yet because I was waiting on this final book. And now I can read all three books back-to-back! Yay!
Gifted:
From the bestest coblogger and bestie EVAR, I got
The Assassin's Blade
by Sarah J. Maas and
Amy & Roger's Epic Detour
by Morgan Matson, plus some yummy goodies and awesome prezzies for the Katiebug. :) I've read both of these books, but I've wanted to add finished copies to my collection
forever
so I was beyond excited to get copies from April. Thanks so much, friend!
From my lovely sister, I received these amazing bookish gifts. I am such a fangirl for all things Maggie, but I just adore this quote so much. I can't wait to hang this print up! And, of course, no fangirl would be complete without her very own Harry Potter mug judging everyone who is
not
a fan. =)
Purchased:
As I mentioned last week, my Black Friday order from Book Outlet finally arrived. I went overboard, as usual, but I got all of those books for a steal. Some I've read, some I've wanted to, and some I just wanted a finished copy of. Because of this order, though, I really had to make myself stay off the site yesterday for their Boxing Day Sale, for which I had a coupon for 50% off everything. There is no such thing as too many books, but there does exist a lack of room for them. o_O
So, that's my haul. How about you? What did you get this week?
The Week in Review:
Reviews:
Current Giveaways:
Check back soon!
Promotional/Discussion Posts:
Jen's Currently Reading/Listening To: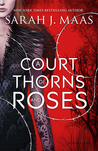 Thanks to all of the holiday festivities, I haven't had much time to read, so I still have about 100 pages left of ACOTAR, not that I'm complaining. I never want this book to end. I'm sure I'll be experiencing a severe book hangover very soon, though. :(
I'm on a bit of a Sherlockian kick these days. Just finished up
Every Word
last week, and now I'm listening to
Jackaby
. Oh, and I've just discovered the squee-inducing show that is
Sherlock
, so I'll probably be camped out on the sofa for much of my holiday vacation streaming it on Netflix. =)
Upcoming Reviews:
Like honest reviews & giveaways? Be sure to follow us on Bloglovin' so you never miss out!