So, since my end-of-the-week post isn't just about what I got in my mailbox or on my Kindle each week -- though that is a big part of it, I won't lie -- I decided to change up the title and intro a bit. I might tweak the format a bit over the next few weeks, but for the most part, it'll contain the same stuff: stuff I got, stuff I did, and stuff that's coming up on the blog. Plus, I get to use the awesome GIF you see here and blow kisses to all the people who sent me lovely books and bookish things. Oh, and I've started linking up to Stacking the Shelves hosted by Tynga's Reviews since I'm not using a specific meme title anymore. April's also doing her own Stacking the Shelves posts on Sundays. Stop by and say hi! =)
Woohoo!!! Vacation time!!!!!!! And less than a week until Christmas!!!!!!!!!!!! Okay. I might be a little overexcited, but really, isn't that expected this time of year? :)
Work really sucked this week because I had less time to get everything done this month because of the holidays, so I worked a @*&$-ton. But I got it all done so that my sis doesn't have to do it all while I'm out. (She's kind of my assistant.)
But my bookish week fared
soooooooo
much better. I got some of my most seriously coveted ARCs, as you'll see below. I hit up an Audible sale. I borrowed more than a few titles from my library. AND my Black Friday Book Outlet order finally arrived. I know I
just
did a huge purge -- which, incidentally, all got reshelved so that the Christmas tree could make its debut -- but I could NOT pass up those deals. I'll post about that next week, though. There are already enough books in this post and I'm too lazy to add them all right now, lol.
Anyway, here's what I scored this week:
For Review:
You can see all of these images in their full glory on Instagram. =)
A Court of Thorns and Roses
by Sarah J. Maas -
aaaaaaaaahhhhhhhhhhhhhh!!!!
A Darker Shade of Magic
by Victoria Schwab -
aaaaaaaaahhhhhhhhhhhhhh!!!!
Wild Hearts
by Jessica Burkhart - sounds adorable!
All the Rage
by Courtney Summers - I read the first chapter somewhere and it made me SO ragey! Can't wait for more!
Library:

Love and Other Foreign Words
by Erin McCahan
The Distance Between Us
by Kasie West (audio) - re-read/listen (
review
)
Fiendish
by Brenna Yovanoff (audio) - DNF (
review
)
The Accidental Highwayman
by Ben Tripp (audio) (
review
)
Purchased:
Audible was having a sale again, so I ended up with these three titles for about $15:
Jackaby
by William Ritter (audio) - I now have this in galley, signed finished copy & audio :P
The Paper Magician
by Charlie N. Holmberg (audio)
Catching Jordan
by Miranda Kenneally (audio)
Won:
Forbidden
by Kimberley Griffiths Little (signed) + swag
So, that's my haul. How about you? What did you get this week?
The Week in Review:
Reviews:
Current Giveaways:
Check back soon!
Promotional/Discussion Posts:
Jen's Currently Reading/Listening To: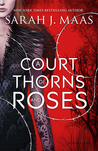 I couldn't NOT read this the second I had the ARC in my hands. I mean, it's SJM. And a
Beauty and the Beast
retelling, which is my biggest weakness when it comes to retellings. I'm already SO in love with this story, too, but I'm trying to savor it.
I'm on a bit of a Sherlockian kick these days. Just finished up
Every Word
earlier this week, and now I'm listening to
Jackaby
. Oh, and I've just discovered the squee-inducing show that is
Sherlock
, so I'll probably be camped out on the sofa for much of my holiday vacation streaming it on Netflix. =)
Upcoming Reviews:
Like honest reviews & giveaways? Be sure to follow us on Bloglovin' so you never miss out!