So, since my end-of-the-week post isn't just about what I got in my mailbox or on my Kindle each week -- though that is a big part of it, I won't lie -- I decided to change up the title and intro a bit. I might tweak the format a bit over the next few weeks, but for the most part, it'll contain the same stuff: stuff I got, stuff I did, and stuff that's coming up on the blog. Plus, I get to use the awesome GIF you see here and blow kisses to all the people who sent me lovely books and bookish things. Oh, and I've started linking up to Stacking the Shelves hosted by Tynga's Reviews since I'm not using a specific meme title anymore. April's also doing her own Stacking the Shelves posts on Sundays. Stop by and say hi! =)
This week was full of suck and I didn't really get to read very much -- though, I listened to quite a few audiobooks -- nor did I post nearly as much as I'd planned to. Which really sucks because I've actually been in a blogging mood lately. :( It's mostly work, but also house-hunting and a little bit of Katie being back in school. Basically, just this big conglomeration of things that culminated into a big, bad, sucky week. I'm glad it's over, but the whole of September looks to be pretty much the same, if this last week of August is any indication. o_O Hope the end to
your
summer is much better than mine!
Anyway, here's what I scored this week:
For Review
:
Got these fab ARCs from Harper/EpicReads in the mail earlier this week, and then I logged into Edelweiss and saw the awesome Harper upload and couldn't resist. I. Am. So. Bad. :P


Looks like I have a very exciting, fantasy-filled winter ahead of me!!!!!!! I don't even know where to start with all of this awesome!
Gifted/Won
:
My awesome #OTSPSecretSister apparently already knows how much I loved
The Orphan Queen
and how much I'm anticipating
The Mirror King
, so she (or maybe he?) sent me the first novella in the series! I've been trying to hold off reading it, but
I don't think I can wait any more!
=) It's my first time participating, but I love how this extra bit of cheer can just totally brighten your day...or week, as in my case. :)
For preordering
Queen of Shadows
, I got this set of buttons from the
Throne of Glass
series, including a bonus
I ♥ Dorian button! Such a great promotion! I'd preorder more books if I got swag like this at the price I got QOS for at Amazon! :P
Traded
:
I received a finished copy of
An Ember in the Ashes
from the lovely Ashley (
@Bookz4Nerdz
) in trade. And it looks so pretty with the ARC on my shelf!
If you're interested in trading books with me, check out
this post
. =) I've still got tons available, though if my husband has his way, they'll be going to HPB this weekend!
But I'll be adding some newer ARCs to my trade list soon!
Library:
Had both of these for review but never had time for them. Which works because the audiobooks were kind of great. :)
Purchased:
With
#otspsecretsister
in full force, I've had to be really good and institute a book-buying ban for myself. So far, it's going well. Though, I did pre-order quite a bit when all those books went on sale on Amazon -- and in order to get some of that awesome swag being offered. :D
Though, I'll be honest, that BookOutlet coupon this weekend was VERY tempting.
Oh, wait. I lied. I did buy the audiobook for another ARC I already had, but it's because the narrator is so effing fabulous and I'd rather her read this story
to
me:

So, that's my haul. :) How about you? What did you get this week?
The Week in Review:
Reviews:
Current Giveaways:
Promotional/Discussion Posts:
Be #FirstInLine to read the last line: Random House just launched a new YA program giving readers early access to some of the newest books and greatest authors!
#WoW - The Dark Days Club by Alison Goodman
Josephine Angeline talks about "redeemable villains" on my stop on the Firewalker Blog Tour + enter to win a finished copy of the book, which releases on September 1st!
Jen's Currently Reading/Listening To: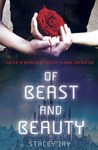 I am totally loving this book, but I just haven't had much time to actually sit down and read lately. And when I have, I've fallen asleep minutes into it. :( I plan to finish
The Weight of Feathers
this weekend, though. It's absolutely lovely and perfect for fans of
The Night Circus
.



I finished three audiobooks this week and DNFed another and then I didn't know what to listen to. :( So, I checked out Audible and realized I had some new credits to use. Yay! And I'm in the mood for another retelling, so I picked this one. I really liked Princess of Thorns, so I'm sure this will be a treat.
Upcoming Reviews:
Like honest reviews & giveaways? Be sure to follow us on Bloglovin' so you never miss out!
Like pretty pictures of books and bookish things? Follow me on Instagram! I also host IG giveaways from time to time. :D