So, since my end-of-the-week post isn't just about what I got in my mailbox or on my Kindle each week -- though that is a big part of it, I won't lie -- I decided to change up the title and intro a bit. I might tweak the format a bit over the next few weeks, but for the most part, it'll contain the same stuff: stuff I got, stuff I did, and stuff that's coming up on the blog. Plus, I get to use the awesome GIF you see here and blow kisses to all the people who sent me lovely books and bookish things. Oh, and I've started linking up to Stacking the Shelves hosted by Tynga's Reviews since I'm not using a specific meme title anymore. April's also doing her own Stacking the Shelves posts on Sundays. Stop by and say hi! =)
Man, I cannot believe it's going to be 90 here today! I mean, I can because it's Texas and spring only lasts two weeks here, but damn. Where did my perfect outdoor reading weather go? On the other hand, I am sooo ready for school to be out so that we can get a break from our routine. o_O
Anyway, here's what I scored this week:
For Review:
Hello, I Love You
by Katie M. Stout - This was my
WoW pick
back in January. It sounds adorable and just what I'm in the mood for. :)
Gifted/Traded:
The Kiss of Deception
by Mary E. Pearson - ARC from Ashley at The Quiet Concert via trade...so happy to be completing my collection of one of my favorite series!
Library:
Nothing this week! But that's only because none of my holds have come through yet. :D
Purchased: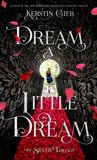 Things We Know By Heart
by Jessi Kirby - I had an ARC (or two) but I never found the time or the mood for this. And when I finally did, I just wanted to listen to it, so I got it when it was 50% off in that last Audible sale. I'll be reviewing it soon.
Of Metal and Wishes
by Sarah Fine -
Loved this
when I read it as an ARC last year, but I wanted to refresh my memory before I dive into the sequel. No better way to do that than with the audio, which I also grabbed in that Audible sale. =)
Dream a Little Dream
by Kerstin Gier - Another one where I had an ARC, but I loved her other series on audio so much that I decided to wait for this one on audio.
Finnikin of the Rock
by Melina Marchetta - I'm finally going to do this. I have the HC, but again, no time for it, so I finally bought the audio. I've always wanted to read this series...
Jellicoe Road
is one of my favorite contemps so I know I'll love this, too.
So, that's my haul. :) How about you? What did you get this week?
The Week in Review:
Reviews:
Current Giveaways:
Promotional/Discussion Posts: