"Waiting On" Wednesday is a weekly event, hosted by Jill at
Breaking the Spine
, that spotlights upcoming releases that we're eagerly anticipating.
This week's WoW selections are...
's Pick: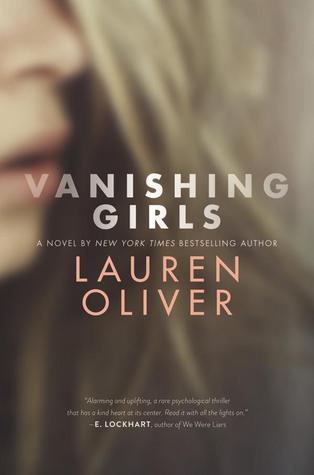 Title:
Vanishing Girls
Author:
Lauren Oliver
Series:
n/a
Publisher:
HarperCollins
Publication Date:
March 10th, 2015
New York Times bestselling author Lauren Oliver delivers a gripping story about two sisters inexorably altered by a terrible accident.

Dara and Nick used to be inseparable, but that was before the accident that left Dara's beautiful face scarred and the two sisters totally estranged. When Dara vanishes on her birthday, Nick thinks Dara is just playing around. But another girl, nine-year-old Madeline Snow, has vanished, too, and Nick becomes increasingly convinced that the two disappearances are linked. Now Nick has to find her sister, before it's too late.

In this edgy and compelling novel, Lauren Oliver creates a world of intrigue, loss, and suspicion as two sisters search to find themselves, and each other.

"Alarming and uplifting, a rare psychological thriller that has a kind heart at its center. Read it with all the lights on." --E. Lockhart, author of We Were Liars
I shouldn't even be wanting this book, because I haven't finished the Delirium Trilogy yet. True story, lol, Book 3 sits on my kindle patiently waiting. There is just something about this book that is drawing me in though. I tried to read a book that sounded similar. It was adult, and I can't remember what the name was but it sucked. I Dnf'd it pretty quickly. So maybe Vanishing Girls will give me what I was looking for. :)
's Pick:
Title:
The Wrath & the Dawn
Author:
Renee Ahdieh
Series:
The Wrath & the Dawn, book #1
Publisher:
Putnam Juvenile
Publication Date:
May 12, 2015
A sumptuous and epically told love story inspired by A Thousand and One Nights

Every dawn brings horror to a different family in a land ruled by a killer. Khalid, the eighteen-year-old Caliph of Khorasan, takes a new bride each night only to have her executed at sunrise. So it is a suspicious surprise when sixteen-year-old Shahrzad volunteers to marry Khalid. But she does so with a clever plan to stay alive and exact revenge on the Caliph for the murder of her best friend and countless other girls. Shazi's wit and will, indeed, get her through to the dawn that no others have seen, but with a catch . . . she's falling in love with the very boy who killed her dearest friend.

She discovers that the murderous boy-king is not all that he seems and neither are the deaths of so many girls. Shazi is determined to uncover the reason for the murders and to break the cycle once and for all.
This book just sounds so amazing! And I've heard nothing but the best things from those who've already read it. But what is it about me and books where the girl falls for the murderous bastard she's supposed to want to kill? For some reason, those circumstances intrigue me to no end. Maybe I hope that in the end,
everyone
is redeemable?
What are you desperately waiting for this Wednesday? Let us know in the comments or share a link to your own WoW post!