"Waiting On" Wednesday is a weekly event, hosted by Jill at
Breaking the Spine
, that spotlights upcoming releases that we're eagerly anticipating.
This week's WoW selections are...
's Pick: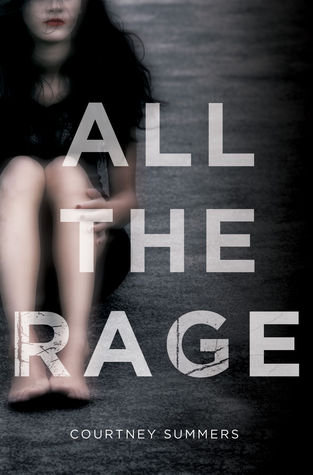 Title:
All the Rage
Author:
Courtney Summer
Series:
n/a
Publisher:
St. Martin's Griffin
Publication Date:
April 14th, 2015
The sheriff's son, Kellan Turner, is not the golden boy everyone thinks he is, and Romy Grey knows that for a fact. Because no one wants to believe a girl from the wrong side of town, the truth about him has cost her everything—friends, family, and her community. Branded a liar and bullied relentlessly by a group of kids she used to hang out with, Romy's only refuge is the diner where she works outside of town. No one knows her name or her past there; she can finally be anonymous.But when a girl with ties to both Romy and Kellan goes missing after a party, and news of him assaulting another girl in a town close by gets out, Romy must decide whether she wants to fight or carry the burden of knowing more girls could get hurt if she doesn't speak up. Nobody believed her the first time—and they certainly won't now — but the cost of her silence might be more than she can bear. 

With a shocking conclusion and writing that will absolutely knock you out, All the Rage examines the shame and silence inflicted upon young women after an act of sexual violence, forcing us to ask ourselves: In a culture that refuses to protect its young girls, how can they survive?
I have only ever read one thing by Courtney Summers, This is Not a Test. I loved it because Zombies are all the rage... ah ha haha! See what I did there? Anyway, She normally writes just contemporary stories, so I'm looking forward to checking this one out. I love seeing how different authors tackle this subject.
's Pick:
Title:
Hello, I Love You
Author:
Katie M. Stout
Series:
stand-alone
Publisher:
St. Martin's Griffin
Publication Date:
June 9, 2015
A teen escapes to a boarding school abroad and falls for a Korean pop star in this fun and fresh romantic novel in the vein of Anna and the French Kiss.

Grace Wilde is running—from the multi-million dollar mansion her record producer father bought, the famous older brother who's topped the country music charts five years in a row, and the mother who blames her for her brother's breakdown. Grace escapes to the farthest place from home she can think of, a boarding school in Korea, hoping for a fresh start.

She wants nothing to do with music, but when her roommate Sophie's twin brother Jason turns out to be the newest Korean pop music superstar, Grace is thrust back into the world of fame. She can't stand Jason, whose celebrity status is only outmatched by his oversized ego, but they form a tenuous alliance for the sake of her friendship with Sophie. As the months go by and Grace adjusts to her new life in Korea, even she can't deny the sparks flying between her and the KPOP idol.

Soon, Grace realizes that her feelings for Jason threaten her promise to herself that she'll leave behind the music industry that destroyed her family. But can Grace ignore her attraction to Jason and her undeniable pull of the music she was born to write? Sweet, fun, and romantic, this young adult novel explores what it means to experience first love and discover who you really are in the process.
Okay, soooo...admittedly, I don't know all that much about K-pop, but I don't care...this still sounds like such an adorable story. With an adorable cover, to boot! Plus, I read the
author's blog
before she had a book, and I just loved the way she expressed herself. So, I'm sure the book will be just as cute. Maybe someone can explain K-pop to me so the story will mean that much more to me? At least tell me what I'm missing? =)
What are you desperately waiting for this Wednesday? Let us know in the comments or share a link to your own WoW post!