"Waiting On" Wednesday is a weekly event, hosted by Jill at
Breaking the Spine
, that spotlights upcoming releases that we're eagerly anticipating.
This week's WoW selections are...
's Pick: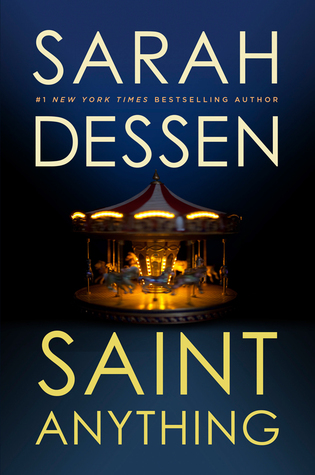 Title:
Saint Anything
Author:
Sarah Dessen
Series:
n/a
Publisher:
Viking Juvenile
Publication Date:
May 5th, 2015
Peyton, Sydney's charismatic older brother, has always been the star of the family, receiving the lion's share of their parents' attention and—lately—concern. When Peyton's increasingly reckless behavior culminates in an accident, a drunk driving conviction, and a jail sentence, Sydney is cast adrift, searching for her place in the family and the world. When everyone else is so worried about Peyton, is she the only one concerned about the victim of the accident?

Enter the Chathams, a warm, chaotic family who run a pizza parlor, play bluegrass on weekends, and pitch in to care for their mother, who has multiple sclerosis. Here Sydney experiences unquestioning acceptance. And here she meets Mac, gentle, watchful, and protective, who makes Sydney feel seen, really seen, for the first time.

The uber-popular Sarah Dessen explores her signature themes of family, self-discovery, and change in her twelfth novel, sure to delight her legions of fans.
Last year, I listened to a few of Dessen's books in audio. I became a quick fan. So far, my two favs are Just Listen and Lock and Key. Really looking forward to this one. :)
's Pick:
Title:
Lying Out Loud
Author:
Kody Keplinger
Series:
stand-alone, companion to
The DUFF
Publisher:
Scholastic
Publication Date:
April 28, 2015
Kody Keplinger returns to the world of The DUFF in this brand-new companion novel!

Sonny Ardmore is an excellent liar. She lies about her dad being in prison. She lies about her mom kicking her out. And she lies about sneaking into her best friend's house every night because she has nowhere else to go.

Amy Rush might be the only person Sonny shares everything with -- secrets, clothes, even a nemesis named Ryder Cross.

Ryder's the new kid at Hamilton High and everything Sonny and Amy can't stand -- a prep-school snob. But Ryder has a weakness: Amy. So when Ryder emails Amy asking her out, the friends see it as a prank opportunity not to be missed.

But without meaning to, Sonny ends up talking to Ryder all night online. And to her horror, she realizes that she might actually like him. Only there's one small catch: he thinks he's been talking to Amy. So Sonny comes up with an elaborate scheme to help Ryder realize that she's the girl he's really wanted all along. Can Sonny lie her way to the truth, or will all her lies end up costing her both Ryder and Amy?
I didn't think I would like
any
of Kody Keplinger's books when I first read the summaries, but I've ended up really enjoying
all
of them. They're cute and comical and just plain fun. And I know that
The DUFF
movie really seems nothing like the actual book, but I still want to see it. =) And now there's going to be another book set in the same school with some old favorites, too? SIGN. ME. UP!
What are you desperately waiting for this Wednesday? Let us know in the comments or share a link to your own WoW post!