So, since my end-of-the-week post isn't just about what I got in my mailbox or on my Kindle each week -- though that is a big part of it, I won't lie -- I decided to change up the title and intro a bit. I might tweak the format a bit over the next few weeks, but for the most part, it'll contain the same stuff: stuff I got, stuff I did, and stuff that's coming up on the blog. Plus, I get to use the awesome GIF you see here and blow kisses to all the people who sent me lovely books and bookish things. Oh, and I've started linking up to Stacking the Shelves hosted by Tynga's Reviews since I'm not using a specific meme title anymore. April's also doing her own Stacking the Shelves posts on Sundays. Stop by and say hi! =)
After the nightmarish week I had last week, this week was
much
better. Went on a Half Price Books shopping spree on Thursday, thanks to my 15% off bday coupon AND the gift card I got for my 10 year anniversary at work. I feel like reorganizing my shelves again. =) Spent yesterday at Katie's Field Day, and that was all kinds of fun. Plus, I got a ton of reading done, something I haven't found as much time for recently.
Anyway, here's what I scored this week:
For Review: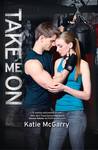 Trial by Fire
by Josephine Angelini - via Netgalley
Adrenaline Crush
by Laurie Boyle Crompton - ARC from publisher
Take Me On
by Katie McGarry - via Netgalley (actually got this last week but forgot to mention it)
Brazen
by Katherine Longshore - from publisher
Lots of awesome new reads this week, courtesy of Macmillan, Harlequin Teen & Penguin!
Purchased:
Raging Star
by Moira Young (HC & audio) - I don't want this to be the last book! Check out my review
here
.
Deeper
by Robin York - I've seen this one around a lot, and it was on sale for $0.99, so I decided to give it a try.
Breakable
by Tammara Webber (audio) - Enjoyed
Easy
so I figured I'd give Lucas's book a try. :D
My HPB Haul:
Forever by Maggie Stiefvater (UK edition!) - I can't help myself...when it comes to Maggie books, I kind of collect all of the different editions when possible
Ask Again Later by Liz Czukas
Going Over by Beth Kephart
The Lost Girl by Sangu Mandanna
Finnikin of the Rock by Melina Marchetta
If I Stay by Gayle Forman (listened to this one on audio ages ago but I still love it!)
Five Flavors of Dumb by Antony John
Something Like Normal by Trish Doller (ARC) - read and loved this one
Please Ignore Vera Dietz by A.S. King
Every Day by David Levithan
Library:

The One
by Kiera Cass (audio) - I just binge-read the other books in this series over the last week or so, including the novellas. Now it's time to find out who America will choose...and maybe figure out why I care somewhere along the way. :P
Killer Instinct
by S.E. Green (audio) - I've seen a lot of comparisons to
Dexter
- and not always good - but seeing as how I don't watch the show, I figured I'd give this a try. I also have an
interview & giveaway
for a finished copy!
So, that's my haul. How about you? What did you get this week?
The Week in Review:
Reviews:
Current Giveaways:
Day 1 - Prize Pack #1
Day 2 - Prize Pack #2
Day 3 - International
Day 4 - Prize Pack #3
Day 5 - Grand Prize
Promotional/Discussion Posts:
Announcement from Tracey Garvis-Graves
,
Books We Almost Put Down But Didn't
,
Our Favorite Summer Reads
,
SYNC 2014 - Week 1 Books Up for Grabs
,
Interview With S.E. Green
Jen's Currently Reading/Listening To:
I read an excerpt from
Brazen
the other day, and I was immediately hooked. I think the books in this sorta series just get increasingly better as they go, and I'm sure this one is going to be my favorite yet.
Ugh. I can't help myself. I have to know how it ends. And I like this narrator, so it's not all bad. :)
Upcoming Reviews:
Like honest reviews & giveaways? Be sure to follow us on Bloglovin' so you never miss out!