Around these parts, we're kind of dying for summer. Not necessarily the heat of it because Jen's from the lovely state of Texas where Spring lasts two weeks and then the 100° days follow immediately. But both of our girls will be out of school -- both are going to be 1st graders in the fall, yay! -- and we can relax our routines a little bit, maybe fit in some more reads along the way.
And whether you're reading books about summer, vacation, or just reading books
during
summer, summer reads tend to be some of the most fun. Summer romances, road trips, beach settings...it doesn't get much better than that. So, we thought we'd collaborate to bring you a list of some of our favorite summer reads of all time.

Jen: I just ADORED
The Art of Lainey
! It's such a cute summer read that has a lot more depth than you might expect. In fact, all three of my summer picks are similar in that respect.
My Life Next Door
is STILL one of my favorite contemporaries to this date. And I couldn't pass up a nerdy read like
The Summer I Became a Nerd
. Honestly, the genuineness of each of these novels is something I search for in every contemporary read.
April: I have not read any of these yet, though I do have My Life Next Door in my must read this summer pile. Like I will drop shit so I can get it done, because I've heard nothing but good things about it. I hope to get to the other two as well, but honestly, that probably won't happen. Not enough time in the day.

April:
I know This Is What Happy Looks Like
wasn't liked as much by the public as her other book was, but as far as summer reads, I thought it was perfect.
Along for the Ride
was actually my very first Dessen book and I loved it. It just screams summer. I'm only a few percent into
On The Fence
. I had full intentions of getting it read while on our cruise last week, but time just did not allow. I can already tell I'm going to love it, so I couldn't not add it! :)
Jen:
Along for the Ride
was my first contemporary on audio, and I still consider it one of my favorite Sarah Dessen books, but I've only read four to date, so I'm sure that'll change eventually. :) I am still loving the quirkiness of Jennifer E. Smith's books and hope to get to her newest one soon. I only just started
On the Fence
, but I'm already in love with it. But that's nothing new...I've loved every Kasie West book so far.

Jen: April and I read
Open Road Summer
together earlier this year, and it was love at first read. This book is THE
perfect
summer read: romance, friendship, music, a road trip. It's got it all. Of course,
Amy & Roger's Epic Detour
comes in a close second for me. I haven't read as many road trip books as I would have liked, but this will always be a favorite.
How My Summer Went Up in Flames
wasn't the story I was expecting, but it was still so fun...and I LOVE that girl's shoes on the cover! =)
April: Yes!!!
Open Road Summer
is perfect! I've not read the other two, I plan on trying
Amy & Roger's Epic Detour
on audio soon though. Soon means like hopefully before fall. lol. I think our pitiful collection of road trip recommendations means we need to read some more from this category.
April:
The Summer series
by Jenny Han is absolutely amazing. It has everything you could ever want in a YA contemporary. I will pimp those books till I die. I just finished
Wish You Were Italian
while on vacation last week and it was so cute.
Nantucket Blue
, I read that one last year,
Nantucket Red
is soon on my to read list.
Jen: I haven't read the Summer series by Jenny Han yet, but it's in the works thanks to my wonderful co-blogger gifting it to me for my birthday. :D
Wish You Were Italian
was absolutely adorable, and it made me crave gelato like no other book before it. There's a pint of vanilla bean in my freezer right now because of it. :P The Nantucket books were fun but also a touch sad, but overall I really like how this duology played out.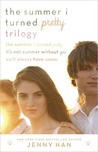 Ha, this is a very ambitious summer TBR pile, but if the audio's available from my library for any of these, that would make this a lot easier. I actually own quite a few of these already, so that won't be a problem. It's just a matter of making this summer about reading what *I* want to read rather than what I
feel
like I should be reading, i.e. review copies. *le sigh*



LoL, I am not nearly as optimistic as Jen is, though I see
Unbreak My Heart
and that should be on my list as well. I've been wanting to get to that one. I have full faith that Jen can read all those summer books. I will have to enforce it. Review books are great, but you gotta take time to read what you buy as well. I don't know how it is for everyone else, but I don't read as much in the summer. I tend to get distracted by all the outdoor things to do. So I need to break up my review books with books I've been dying to get my hands on. Maybe Jen and I should challenge ourselves to read at least 5 of these summer books from our lists. Then post about how badly we failed when fall comes. lol
What books are on your summer TBR list? Plan on reading any of the ones we have listed here? Have any recs for
us
? :D