Top Ten Tuesday is hosted by the awesome ladies at
The Broke and the Bookish
. Apparently, they are overly fond of list-making and love to share their bookish lists with the rest of us book nerds. =) We're game.
This week's list features the
Top Ten Books I Almost Put Down But Didn't:
April's picks:
I'm pretty quick to put a book down if I'm not feeling it but sometimes you just have to push through. And a lot of times I'm glad I did, but then there are those times I'm not so glad and I have a mixture of both in this list. lol.
After the End
wasn't what I was expecting but I'm glad I kept reading because I did really like it.
Being Sloane Jacobs
was mostly an issue with one of the Narrators, but also it was a bit cheesy and predictable.
The Secret Diamond Sisters
was one of those I wish I had put down. I kept waiting for a plot but nothing came.
Crash
, well that was a buddy read, and so we made fun of it together. That's the only thing that kept me going. Holy Moly was the guy love interest a tool. Ahhhhh
The Host
!!! This is one of my favorite books ever, so I'm glad I hung in there. A friend told me before I picked it up that the beginning was a little slow, but to keep going because its amazing. I actually re read it last year and loved it even more the second time.
Warm Bodies
was weird. It just was.. the movie is so much better. All the crap that almost made me put it down was cut.
Shark Bait
was tough in the beginning. I eventually got into it, and really loved the story. I wish I could say the same for the following books though. They get way too long winded.
Forbidden
doesn't need much of an explanation. Incest... there are times I thought.. "I don't know if I can do this" But I'm so happy I did. Now I want to boink my brother. ( totally kidding )
Loving Summer
, ugh... I picked it up out of curiosity. Everything about this book screamed "
The Summer I Turned Pretty
". Boy was I right, worst knock off ever. I only kept reading so I could list all the similarities in my review. And last of all,
Blood Red Road
.. what an awesome book. The dialect threw me a little early on, but after going back and re-reading the first 2 chapters I was able to get into it.
Jen's picks:
First things first. You should know that I rarely continue reading a book these days if it hasn't captured my interest early on. Ain't nobody got time for that. But when I first started blogging, I read a ton of crappy books just because I didn't know how to
not
finish them, ya know? The idea of DNFing a book -- and using DNF as a verb! -- was so foreign to me back then. Now, not so much. Here are the books that I struggled with but eventually finished, whether I ended up liking them or not:
The ones I loathed -- and will not be continuing the series, no matter how far I might already be into it:

The ones that were disappointing but my curiosity
won't
let me NOT continue the series:

The ones that got off to a bad start but that I more or less ended up enjoying: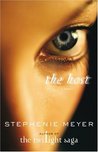 What books did you almost put down? :) Share the link to you TTT post so we can visit!