So, since my end-of-the-week post isn't just about what I got in my mailbox or on my Kindle each week -- though that is a big part of it, I won't lie -- I decided to change up the title and intro a bit. I might tweak the format a bit over the next few weeks, but for the most part, it'll contain the same stuff: stuff I got, stuff I did, and stuff that's coming up on the blog. Plus, I get to use the awesome GIF you see here and blow kisses to all the people who sent me lovely books and bookish things. Oh, and I've started linking up to Stacking the Shelves hosted by Tynga's Reviews since I'm not using a specific meme title anymore. April's also doing her own Stacking the Shelves posts on Sundays. Stop by and say hi! =)
Wow...where has this summer gone already? I can't believe it's almost July! I feel like I've gotten back into a good groove, though, after May and June sort of kicked my ass, so there's that, at least. :)
Anyway, here's what I scored this week:
For Review
:

The Boy Most Likely To
by Huntley Fitzpatrick - OMIGOD! I can't believe I have this in my hands!!!!!!!!!!
Dreamstrider
by Lindsay Smith - SO excited. I love when a #WoW pick lands in my mailbox. :)
Signs Point to Yes
by Sandy Hall - Loved her debut!
The Anatomical Shape of a Heart
by Jenn Bennett - This sounds fantastic!
Firewalker
by Josephine Angelini - Loved the first book & I can't wait to dive into this sequel.
Thanks Penguin & Macmillan for these review copies!!!
Traded/Gifted:
No trades this week, but I know that some are on the way. :D
Library:
Bitter Greens
by Kate Forsyth (audio) - I had a review copy that I never got around to, so when I saw that my library had this available on audio, I snatched it right up. :)
Compulsion
by Martina Boone (audio) - Needed a refresher before I pick up
Persuasion
.
Wicked Lovely
by Melissa Marr (audio) - My library finally bought the rest of this series on audio, so I refreshed with the first book and grabbed the 2nd.
Ink Exchange
by Melissa Marr (audio) - As quick as these are going, I should probably just go ahead and borrow all of the audiobooks in the series. :P
Purchased:
No purchases this week, either. I'm being a good girl, even though none of my carts are empty, lol.
Freebies:
I grabbed this week's SYNC audiobooks, and I can't wait to start them! You can find out more on how to download them for free yourselves below. :)
So, that's my haul. :) How about you? What did you get this week?
The Week in Review:
Reviews: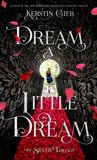 Current Giveaways:
Promotional/Discussion Posts:
The Blog Most Likely To + Giveaway
#WoW - Riders by Veronica Rossi
SYNC Week #8 featuring Monster and Lord of the Flies
I Swear - in which I extol the merits of the method employed by the authors of Illuminae to include profanity in their novel without actually using it =D