So, since my end-of-the-week post isn't just about what I got in my mailbox or on my Kindle each week -- though that is a big part of it, I won't lie -- I decided to change up the title and intro a bit. I might tweak the format a bit over the next few weeks, but for the most part, it'll contain the same stuff: stuff I got, stuff I did, and stuff that's coming up on the blog. Plus, I get to use the awesome GIF you see here and blow kisses to all the people who sent me lovely books and bookish things. Oh, and I've started linking up to Stacking the Shelves hosted by Tynga's Reviews since I'm not using a specific meme title anymore. April's also doing her own Stacking the Shelves posts on Sundays. Stop by and say hi! =)
We've
finally
got some fall-like weather here, and it's so chilly in the evenings that I'll probably light a fire every night this weekend. Any excuse for a fire. :P Things are a little stressful around here, with preparations for hosting not one but TWO Thanksgiving dinners at our new house. I can't even tell you what was going through my head when I agreed to that. I usually make everything from scratch, but I'm thinking I might make it easier on myself this year. I do like to show off in the kitchen a little bit, though. ;0)
We had a pretty great week here. Katie got recognized TWICE on the school announcements this week for superb behavior and leadership skills AND she got straight As on her report card again. Jerrod finally got some cooler weather for his hunting trip, so maybe the deer will actually be a little more active for him this weekend. (Yes, I'm not the biggest fan of hunting for sport, but we eat what we can and share the rest. Plus, just so you know, there's an overpopulation of deer here in Texas. And food banks here in North Texas accept butchered deer to supplement their supplies, so it doesn't
have
to be a bad thing.) And I read
Winter
in less than two days AND legit started
Passenger
which is just amazing already. So, yeah, not a bad week at all. =)
Anyway
, here's what I scored this week...
For Review
:
Nothing this week, I am pleased to say. Though, if a few of those 2016 fantasy ARCs from Harper were to land on my doorstep, I would
not
complain. :D
Traded:
Thanks to Jocelyn (
@novelsnecklaces
) for the
#booksfortrade
! I can't wait to read this...I've heard the
best
things!
Purchased:
I purchased both the hardcover and audiobook versions of
Winter
to ensure I missed nothing. Only to find out that if I'd ordered my HC from Target, I could have gotten a copy with
fanfic endpapers
!
Waaaaahhhhh!!!
So, that's my haul. =) What fabulous bookmail did you get this week?
The Week in Review:
Reviews:

Current Giveaways:
Check back soon!!!
Promotional/Discussion Posts:
Currently Reading:

I've finally gotten a little reading time in this week, and I am in love with this intricate time travel story already. Please do give me more stories like this...I love the detailed plot and how true to the time period this novel is.
Currently Listening: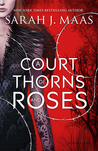 This will make the THIRD time I've read/listened to this book THIS year. But I can't help myself. I keep seeing it on the Goodreads Choice Awards ballot and I want to read it every time. I'm also desperate for the sequel, so maybe this will help. (Lies! I already know it won't! :D)
Upcoming Reviews:

Like honest reviews & giveaways? Be sure to follow us on Bloglovin' so you never miss out!
Like pretty pictures of books and bookish things? Follow me on Instagram! I also host IG giveaways from time to time. :D
Subscribe by email: