"Waiting On" Wednesday is a weekly event, hosted by Jill at
Breaking the Spine
, that spotlights upcoming releases that we're eagerly anticipating.
This week's WoW selections are...
's Pick: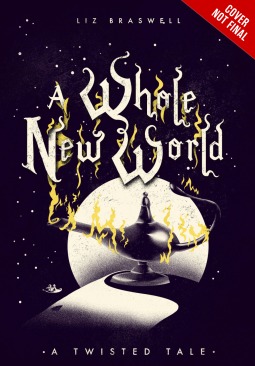 Title:
A Whole New World
Author:
Liz Braswell
Series:
Twisted Tales #1
Publisher:
Disney Press
Publication Date:
September 1st, 2015
Welcome to a new YA series that reimagines classic Disney stories in surprising new ways. Each book asks the question: What if one key moment from a familiar Disney film was changed? This dark and daring version of Aladdin twists the original story with the question: What if Jafar was the first one to summon the Genie?

When Jafar steals the Genie's lamp, he uses his first two wishes to become sultan and the most powerful sorcerer in the world. Agrabah lives in fear, waiting for his third and final wish.To stop the power-mad ruler, Aladdin and the deposed Princess Jasmine must unite the people of Agrabah in rebellion. But soon their fight for freedom threatens to tear the kingdom apart in a costly civil war.

What happens next? A street rat becomes a leader. A princess becomes a revolutionary. And readers will never look at the story of Aladdin in the same way again.
I'm a big fan of retellings, so I'm super excited to read this one. I actually just got approved for it on Netgalley, I hadn't heard of it before I saw it on there. So yay for that! :)
's Pick:
Title:
Passenger
Author:
Alexandra Bracken
Series:
untitled series, book #1
Publisher:
Disney-Hyperion
Publication Date:
January 5, 2016
Violin prodigy Etta Spencer had big plans for her future, but a tragedy has put her once-bright career at risk. Closely tied to her musical skill, however, is a mysterious power she doesn't even know she has. When her two talents collide during a stressful performance, Etta is drawn back hundreds of years through time.

Etta wakes, confused and terrified, in 1776, in the midst a fierce sea battle. Nicholas Carter, the handsome young prize master of a privateering ship, has been hired to retrieve Etta and deliver her unharmed to the Ironwoods, a powerful family in the Colonies--the very same one that orchestrated her jump back, and one Nicholas himself has ties to. But discovering she can time travel is nothing compared to the shock of discovering the true reason the Ironwoods have ensnared her in their web.

Another traveler has stolen an object of untold value from them, and, if Etta can find it, they will return her to her own time. Out of options, Etta and Nicholas embark on a perilous journey across centuries and continents, piecing together clues left behind by the mysterious traveler. But as they draw closer to each other and the end of their search, the true nature of the object, and the dangerous game the Ironwoods are playing, comes to light -- threatening to separate her not only from Nicholas, but her path home... forever.
I absolutely adored Alexandra Bracken's
The Darkest Minds
trilogy from start to finish, and I have a feeling I'm going to love this new series even more. Especially with the promise of time travel. And gawd, isn't that cover unbelievably gorgeous?!? January...why you so far away?
What are you desperately waiting for this Wednesday? Let us know in the comments or share a link to your own WoW post!