Stacking The Shelves is hosted by Tynga's Reviews and is a way to share with everyone all the goodies you've received through out the week.
Just click the covers to be taken to their goodreads pages.
Purchased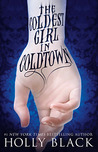 This week I grabbed The Coldest Girl in Coldtown in preparation for fall. Halloween is one of my favorite holidays, so as soon as the air turns brisk and the leaves start changing, I like to curl up with spooky reads. This one sounds really creepy, so I'm looking forward to it.
For Review
(Thank you Spencer Hill)
I'm unsure of Damsel Distressed, but it looked cute so I'm going to give it a try. I already have a physical arc of Forest of Whispers, but I saw it pop up on Netgalley last week, and well, I'm lazy. If I have the option to read it on my kindle instead, then I will. :)
Can you believe summer is almost over!!!???
Crazy I tell ya. The past few weeks have been a blur. Summer has been so busy and now that school is coming up, it's even busier. Aubrey is in frozen camp this week. It's in the afternoons at her dance studio. She's been dressing as Elsa, of course.
Also, we finished up our school clothes shopping! Not sure were you all are, but Old Navy had the best selection and prices for us. :)
Officially ready for first grade now! :)
Not much happening in the garden this week. Just ripening tomatoes. We did make some fresh pickles though! Delish.
oh and we got our first Okra bloom. Probably the only! lol. They do best in hot weather and it's been a very cool summer here.
Who would have thought Okra flowers could be so pretty. <3
I hope you all had a great week!!