So, since my end-of-the-week post isn't just about what I got in my mailbox or on my Kindle each week -- though that is a big part of it, I won't lie -- I decided to change up the title and intro a bit. I might tweak the format a bit over the next few weeks, but for the most part, it'll contain the same stuff: stuff I got, stuff I did, and stuff that's coming up on the blog. Plus, I get to use the awesome GIF you see here and blow kisses to all the people who sent me lovely books and bookish things. Oh, and I've started linking up to Stacking the Shelves hosted by Tynga's Reviews since I'm not using a specific meme title anymore. April's also doing her own Stacking the Shelves posts on Sundays. Stop by and say hi! =)
Slow week here on the blog. My desire for blogging and social media interaction has just been coming in fits and spurts lately. And I'm sure that has a lot to do with how things are going at work, too. But I did that to myself…I don't usually take both the week of Thanksgiving AND the week of Christmas off, but I decided to this year and it's really put a strain on me to get everything done before I hit my usual deadlines. But I feel the time getting away from me, and I want to spend as much of Katie's childhood with her as I can.
Family trumps work every time.
In spite of that, though, I've been getting some phenomenal reading done. And I've been
flying
through some audiobooks, which means I'm scratching the bottom of the barrel trying to find new ones. :( I'm always looking for recs! And always wishing that my library would purchase more. :P
Anyway
, here's what I scored this week...
For Review
:

I've been looking at
These Vicious Masks
every time I check out Netgalley, but as I have enough books to review already, I kept telling myself to pass on it. But then
Love, Lies and Spies
was available this last time I checked, and I couldn't resist any longer. And I'm glad I didn't. I read TVM almost as soon as it arrived on my Kindle, and it was exactly what I needed to read at that moment. And it made me want to pick up
The Dark Days Club
immediately after. :)
Purchased:

I've been vacillating on reading this one since before it was released. I love
Pride & Prejudice
retellings as much as the next girl, but they don't always resonate with me. This one did, though. It was soooo freaking adorable. Like, I wish I could go back and listen to it all over again for the first time because it was so cute. Especially with the author narrating.
Library:
Court of Fives
was better than I expected, based on all the middling reviews I'd read prior to listening.
The Scorpio Rules
was about as expected and completely weird, though I kind of think I have a thing for that AI. And I didn't finish
The Eternal Ones
because it was absolutely horrendous and narrated by Emma Galvin, who is not among my favorite narrators.
So, that's my haul. =) What fabulous bookmail did you get this week?
The Week in Review:
Reviews:

Current Giveaways:
Check back soon!
Promotional/Discussion Posts:
Currently Reading: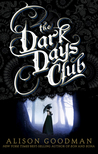 I am such a huge fan of Goodman's gender-bending
Eon/Eona
series, and I feel like I've been waiting
forever
for this book. I'm so happy to have an ARC, even if that means the wait for the second book will be that much longer. I just love the Regency era, but I like it even more when the women of that time toe the line of propriety. :D
Currently Listening:
I've literally had this book on my shelf for
years
. Honestly, I've had
a lot
of Lauren Oliver's books on my shelves for awhile without ever picking them up. I just didn't think they could compare to my love for
Delirium
, back in the day anyway. But it was available on audio from my library, and I had nothing better to listen to, so I downloaded it. And I'm really enjoying it so far. I mean, I hate the mean girl aspect, but it's about more than that, and I like it.
Upcoming Reviews:

Like honest reviews & giveaways? Be sure to follow us on Bloglovin' so you never miss out!
Like pretty pictures of books and bookish things? Follow me on Instagram! I also host IG giveaways from time to time. :D
Subscribe by email: